Matthew Ward's Home Page
---
Greetings!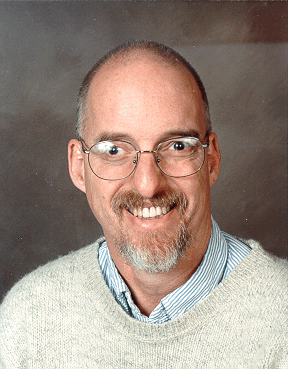 I'm on the faculty of the Computer Science Department at WPI. I was also the Director of WPI's program in Bioinformatics and Computational Biology . My research interests are primarily in visualization , though I also dabble in computer graphics, bioinformatics, visual languages, and scientific databases.
Other information is available in my professional home page.
Email addresses for me are: matt AT wpi DOT edu or matt AT cs DOT wpi DOT edu
My office phone is 508-831-5671, and my fax is 508-831-5776.
Research Activities
Press here to get a complete list of my publications.
My technical reports can be examined through the CS technical reports page.
An overview of visualization research at WPI can be examined by pressing here
Teaching Activities
The following are courses I am currently teaching or have recently taught. I've included links to some syllabi, and will add other course material as I think of it.
Other Stuff
In my less-than-abundant free time, I like to do things with my wife and two sons. I do a lot of home renovations, as we tend to buy old houses. I am moderately accomplished at woodworking and playing the guitar (mostly folk styles). I also do a bit of gardening, growing habenero peppers for my salsa, which is popular among local pepperheads. I also keep bees and sell the excess honey (after our own use and gift giving).

I like to listen to music a lot as well. I like most types of folk music (especially Celtic), country, new age, jazz, old rock-and-roll, and even some classical. Some of my current favorite musical artists include Silly Wizard (and any other group involving this band's members), Dixie Dregs (mostly Steve Morse), Kristina Olsen, Garnet Rogers (and the late Stan Rogers), the Judds, Dwight Yokum, Stanley Jordan, Stephan Grapelli, Dave Grisman, Pat Donahue, the Modern Jazz Quartet, Ladysmith Black Mambazo, Roy Bookbinder, ZZ Top, Rolling Stones, Triona Ni Dhomnaill (and all the groups she performs in), Dexter Gordon, John McKutcheon (and anyone who plays the hammered dulcimer), George Shearing, Dire Straits, Bill Staines, Nancy Griffith, Jimi Hendrix, B.B. King (I named my computer after his guitar, lucille), Lui Collins and a lot of others who's names have slipped my mind!

The whole family is into Star Trek and all its variants. Here's an old picture of Meredyth and me with our friend KC (yes, we own uniforms). Pretty nerdy, huh?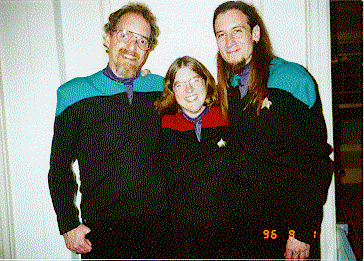 ---