Introduction
Smash Your Food is a serious game which help people to learn the importance of food nutrition and balanced diet.

Smash Your Food is a children's game. The whole game series is composed by 4 mini-games. What Food Am I is a game where players will choose the foods they have eaten in a day. At the end, players' meals will be analysed. Smash Your Food helps players know and remember the truth that how much sugar, salt or oil are in a certain food. Food Quiz is a trivia game which help players learn by asking questions. And What Recipe Are You recommend different recipe to players via the result of a short psychological test.
Below is a detailed analysis of this game roughly following Brian Winn's1 Design/Play/Experience framework, including:
Smash Your Food is an teaching/behavior change game for children. The basic intended learning outcomes include:
What Food Am I
learning to have a balanced diet instead of eating same kind of food in a day
learning how many kinds of food do a person need to achieve a balanced diet.
Smash Your Food
learning how much nutrition (salt, sugar and oil) does a player need for a day
learning about 'commonly abused' foods that contribute to excessive calorie consumption.
learning approximately how much nutrition (salt, sugar and oil) does a normal food contain
As a children's game, Smash Your Food doesn't have a sophisticated storytelling. Basically, the main structure of the game is that in mini-game What Food Am I, the game asks players to plan a day's diet and make a analysis. In Smash Your Food, the game asks players to choose a food, smash it and see the nutrition elements in it. Finally, the game will present a short quiz with 10 questions to reinforce the learning effect.
The characters in this game are dolls made by foods as showed in figure 1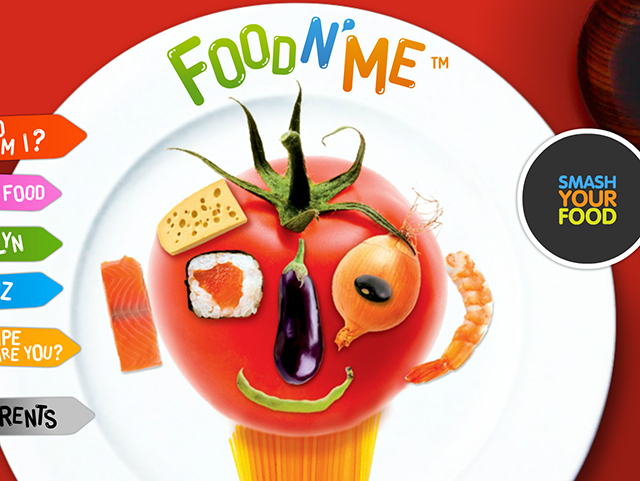 1. features
Choose from 40 foods to SMASH, on 5 levels – from doughnuts and burgers to full meals!
High definition video - Yes, they did do this to real food!
Vivid sound effects – Players can actually hear every squish, glop, fizz and pop!
(*This feature is in SmashYourFood HD iOS) CRAZY FOOD! Unlock stacks of Crazy Food for even messier splats – there are 10 of these in the game!
A compelling, fun way for children to get important health information while having a blast, and —there's no mess to cleanup!
Personalized nutrition tips and advice are emailed to parents as their children master each level.
2. mechanics, dynamics & affects
Basically, Smash Your Food is a point-and-click game.
2.1 In mini-game What Food Am I (as showed in figure 2), in every meal, players need to drag foods they want into a plate. In the end of the day, the game will present a assessment to players' choice. The assessment is like "Today, I ate mostly fruit. Eating a lot of fruit is smart! I will remember tomorrow to eat more vegetables and whole grains and just enough dairy and meat". Meanwhile, two bars which represent ho much calories you may need and how much you have intaken today. If you had a balanced diet today, a doll will become colorful and say some compliment to player, otherwise, the doll would become grey and suggest players to eat more variety of foods.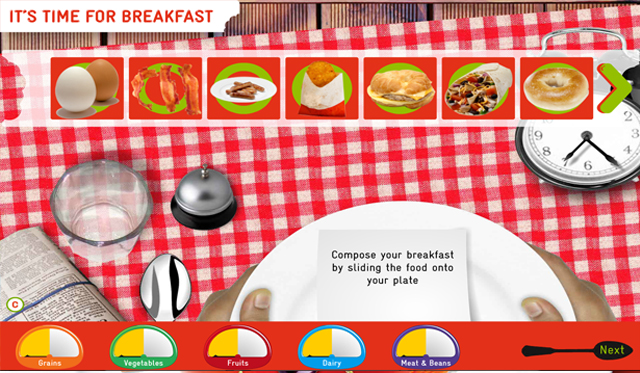 What Food Am I: main UI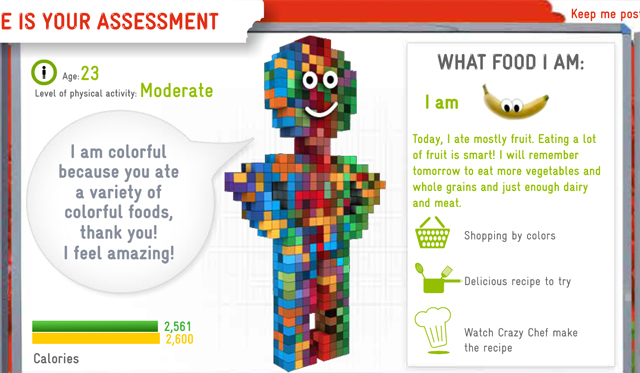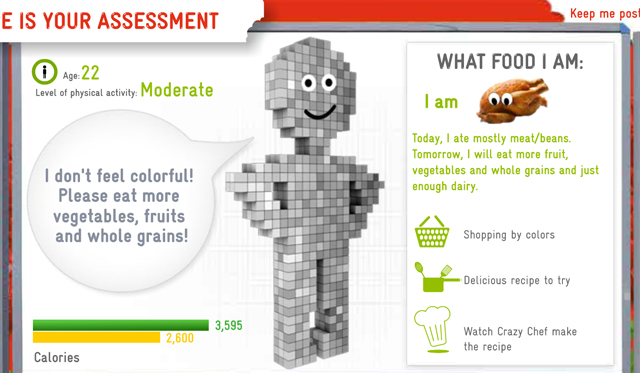 What Food Am I assessment: colorful doll & grey doll
2.2 Smash Your Food is a guessing game bursting with realism and surprise. In this mini-game Your Food, players need choose one food and guess how much sugar, salt and oil does the food contain. They the game will literally smash it and show players the result. This game is absolutely compelling and impressive for children. Smash Your Food uses HD video and real sound effects to create lasting impressions and perceptual intuition. This simple method has been very entertaining and children were willing to learn foods.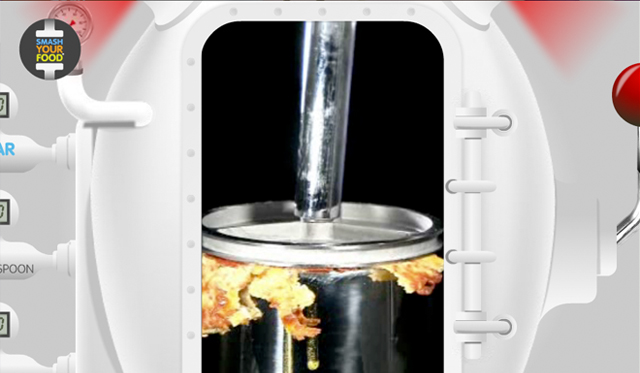 Control
As a children's game, the control is pretty simple and intuitive. All of the interaction in Smash Your Food is done with a mouse. The players are able to manipulate objects or make decisions by clicking or dragging. The micro-interaction in this game is good though there are some small issues. for instance, in What Food Am I, after clicking a food, the corresponding type in the bottom of the screen will glow. Besides, in the whole game, manipulatable objects are obvious. However, in some scenario, not every manipulatable objects has perfect affordance. In What Food Am I, it took me a few seconds to figure it out I need to drag foods to the plate.
UI
The game's IA is hierarchy. Players choose a mini-game in the main navigation bar. In every game, the processes are linear so it is easy for children to understand. The color much and UI parts are vivid and high-saturate.
Smash Your Food is both a browser based game and an iOS game. I think it is a good choice to port this game to mobile devices for children today play a lot games on pads or parents' mobile phones.
I did not found any formal assessment. However, according to the reviews on apple store, the game works pretty good. A customer said "When I bought the app, I wasn't sure if my 11 year old would get into it but he has and he loves it and has advanced to higher levels. I've also learned so much just by watching him. The french fry smashing has made me think twice about every eating another french fry in my life!" and another said "Our daughter loves this game!! She's 5 and it has been very entertaining and she's learning about food!"
In Smash Your Food, after players smashing their foods, the game show players the correct answer and ends. I mean, as a teaching/behavior change game, it may be not educational enough to change players' opinion. It would be better if the game provide players more knowledge or materials. Secondly, the game does has a win condition, however, there is no difference between win and lose, that makes players lose interest soon. If the game can import some award system, level system or even challenge, I assume it would be more immersive.
Fortunately, in the later iOS version, the game did import the Upgrade mechanic into this game and this made the game more interesting. The smashing of different food items will definitely be the highlight for children when using this app. Smash Your Food awards stars for estimating how many sugar cubes, and teaspoons of oil and salt are in each food and requires that you earn a certain number of stars to move on to the next level. The combination of competitiveness and food destruction will grab your students attention and keep them playing.
Basically, Smash Your Food is a successful children's game, it does children knowledge about foods and makes them think twice when buying junk foods.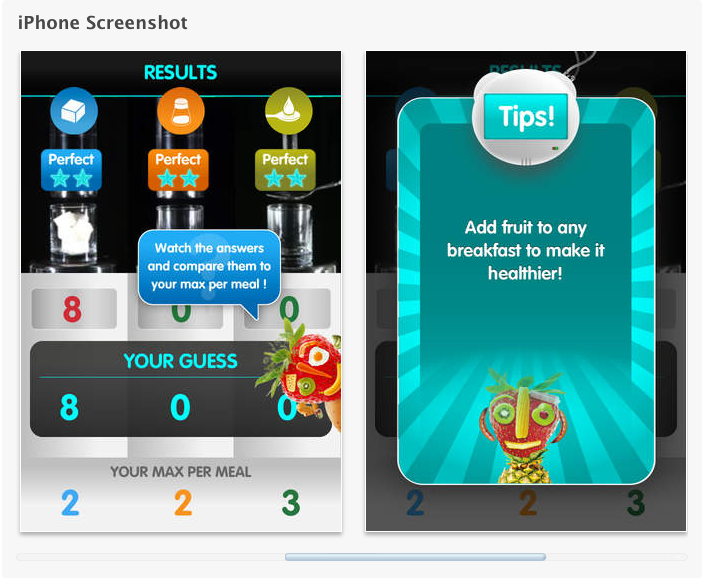 Questions & Discussion
By studying this case, what is the foremost concern when designing serious game mechanics for young kids? How to make the game both fun and educational? Share your opinion or examples.
Smash Your Food is a children game designed for 5-12. However, this topic is also meaningful for older people. If we want this game also fit to 12-16 kids, what can we do on the game mechanic?
References
Smash Your Food HD on appolearning.com
Smash Your Food HD on apple store