Introduction
"What It Is" is a Canada-wide digital quiz game in English and French that raises awareness about sexual violence and supports young people aged 12 to 25 dealing with issues of sexual violence.
Below is a detailed analysis of this game roughly following Brian Winn's1 Design/Play/Experience framework, including:
Most of us know someone who has been affected by sexual violence but hardly anyone talks about it. The idea this game is trying to express is that the best way of starting challenging the sexual violence is to find out what it is. So the basic intended learning outcomes of this game include:
Definitions about sexual assault, harassment, abuse and consent;
Common myths and realities about sexual violence;
Needs, rights and common concerns of victims of sexual violence;
Healthy and unhealthy relationships and how they relate to sexual violence
How youth can support their peers going through sexual violence;
Resources, community services and supports available to youth victims of sexual violence
In What It Is, you play as a person who will experience through five scenes including a friend's house, a cafeteria, a house party, a park and a bus stop. You will meet with people you know and you do not know and they will either give you key messages or ask you multiple choice quiz questions.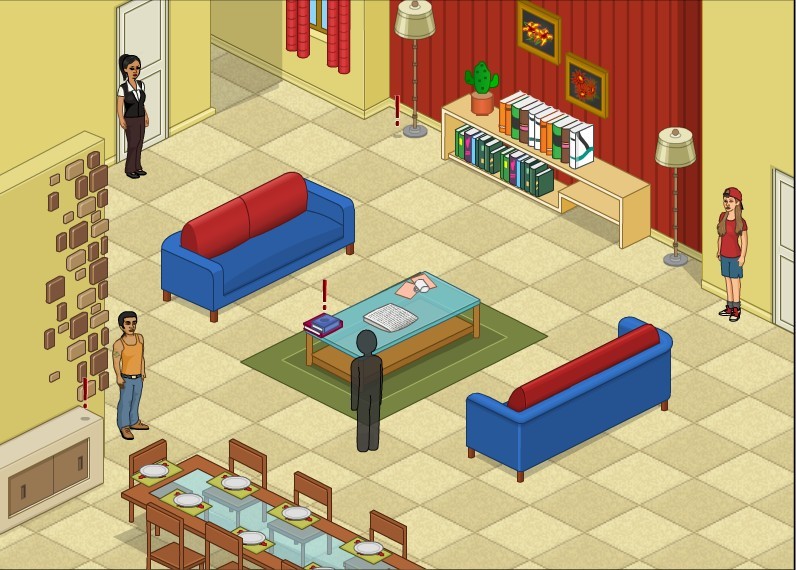 During the communication process, the players' awareness about sexual violence can be raised.
Move the character through the scenes using the arrow keys. The player will be asked questions when moving up to people on screen. The question can be an argument made on a situation related to sexual violence like "I don't believe that Sarah's uncle abused her. I met him. He wouldn't hurt anyone." What the players need to do is to make the correct judgment on this issue and choose the right comment from 4 options below the question. In other cases, the question can be very straightforward like "Where can I get the morning after pill?" What the players need to do is to choose the correct answer to it.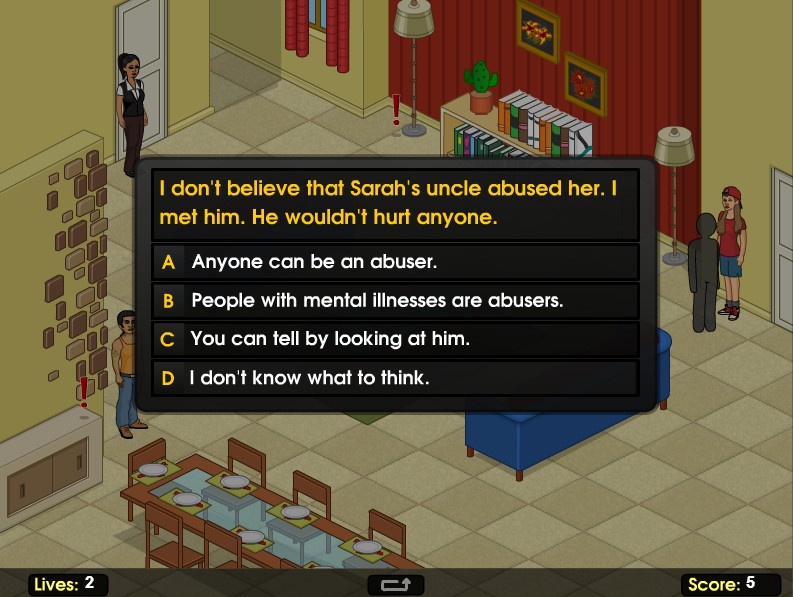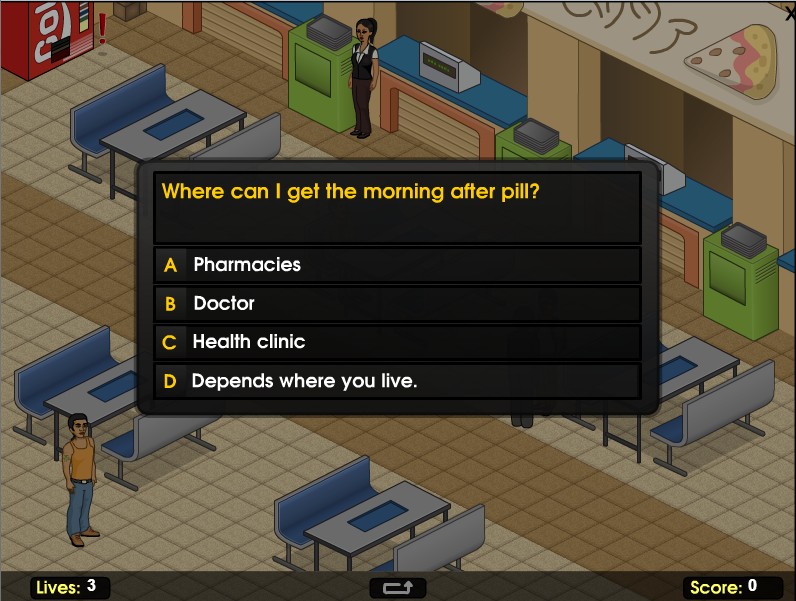 The players need to pick the answer he/she thinks is right. 20 points are awarded for each correct answer. Otherwise, a window will pop up giving the correct answer and explaining why it is correct. Players have 3 lives in the game, every time when they choose a wrong answer to a question, they will lose one life.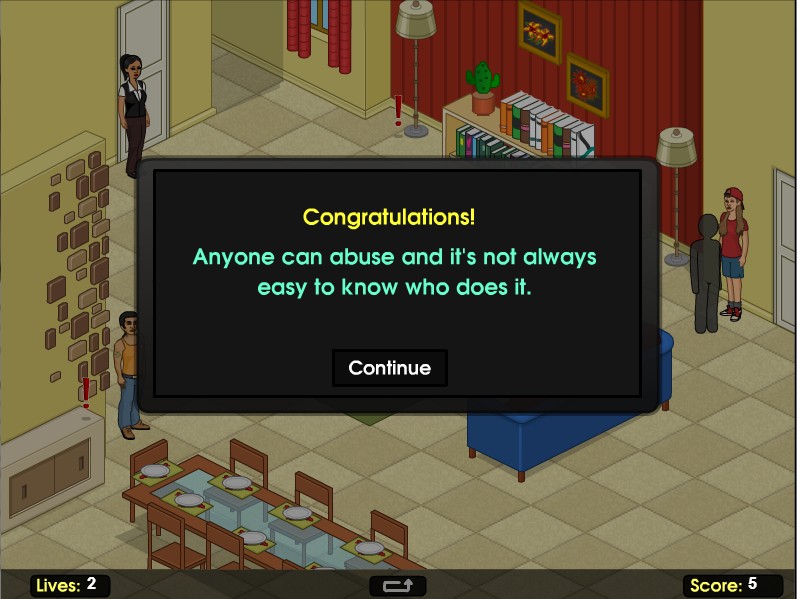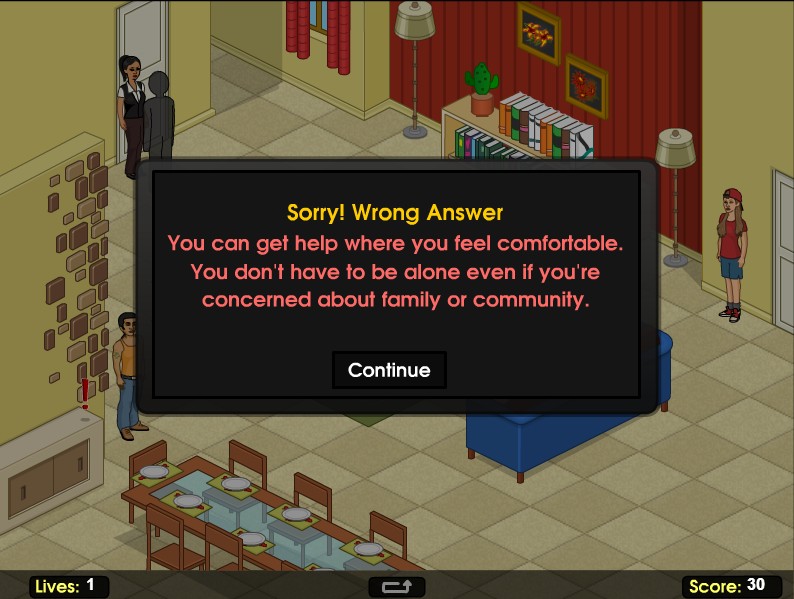 Players can move the character to the exclamation marks to get a message to read and get 5 points for each.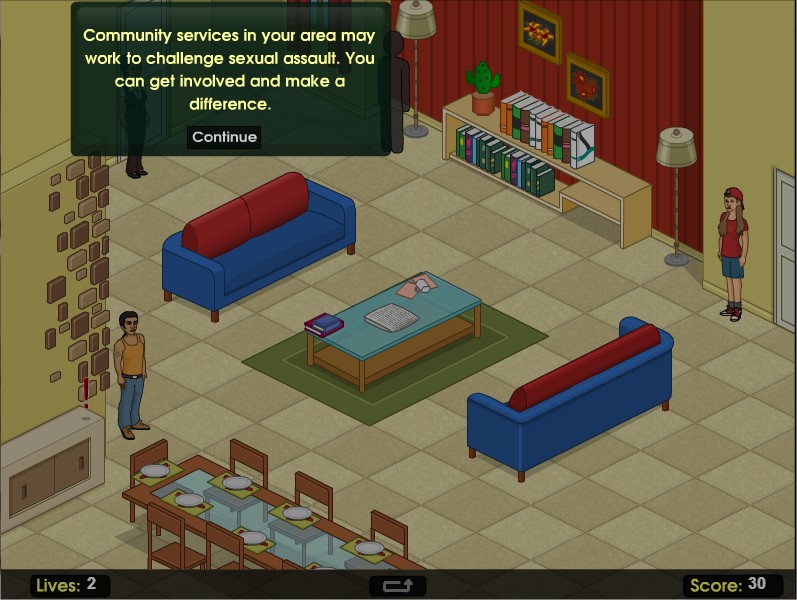 Players who get a high score win a download code for an original song by two young urban artists from Toronto, Shi Wisdom and Myk Miranda.
What It Is is 2D-based game. The interaction with menu UI in this game is done by mouse clicking and the interaction in game play is done with mouse and arrow keys. The splash screen (shown below) provides six options for players to choose from and the text content each option leads to is short and easy to read.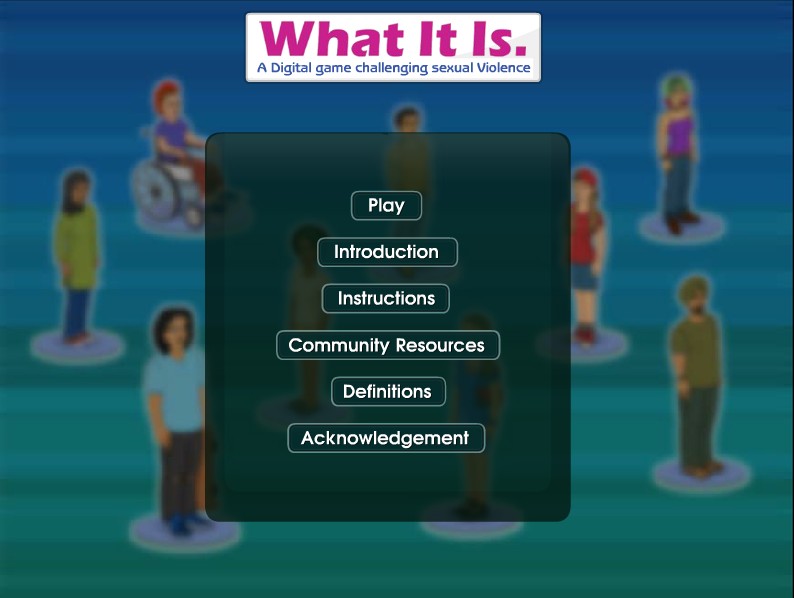 A good thing is that the menu provides a large number of community resources to the player so that they know where to get help from if they are in immediate danger or need urgent medical help in reality. However, it's hard for me to find anything fun in the gameplay as there is no sound feedback and background music at all and all I can do in the game is to get the character to walk around and click the answers and continue, which is boring. Besides, it seems not necessary to let the character walk around the scenes as this mechanic is not contributing to learning the intended knowledge of sexual violence. And I think the walking action in the game is even redundant because the slow movement of the character controlled by the arrow keys can sometimes annoy me. Instead, the game could have been simply structured as questions and answers without the role playing.
What It Is has a wide range of versions to run on different platforms and hardware from basic Java Phones, Smart phones and other handheld devices to PCs and Mac. All the cell phone versions and one of the online versions (using Flash Player) were developed by ZMQ Software Systems company. It is important to make a variety of mobile versions as mobile phones are much more accessible and practical tool for most people in the world and they are proved to be great self-learning devices. Another online facebook version was recently released last year to make the game widely spread over the social network system, which means more and more young people will get the chance to improve their awareness of the sexual violence.
I found a formal assessment of What It Is2 . It gives more details of the evaluation background by defining the sexual violence, presenting the facts about sexual violence against youth in Canada and USA and discussing benefits and challenges brought by new technologies. This report is the outcome of a series of evaluation activities to explore the efficacy of "What It Is". It identifies connections between the issue of sexual violence against youth and tools for prevention, and proposes recommendations for other sexual violence prevention and intervention initiatives. The evaluation was conducted to answer three key questions.
1. Is the game effective in making the issue of sexual violence against young women visible?
2. What do young people identify as the major issues when discussing sexual violence?
3. How can we make the game and other similar initiatives better in the future?
Evaluation questions were explored using interviews, online survey, focus groups. After the evaluation, overwhelmingly positive responses were given about the game's usability and content,including its length, usability and ease of play. And majority of respondents indicated that the game is informative, applicable to all genders and addresses the right topics. The report concludes that What It Is appears to be an excellent tool for education and has significant potential to prevent and intervene in situations of sexual violence by promoting healthy, equal gender roles, gender equality, healthy relationships and healthy sexuality.
Overall, I think What It Is is an effective tool for raising discussions and our awareness about the sexual vioence issues by leading us to think about the myths and realities about sexual violence from answering questions in the game. However, the feedback delivered to the player after them making the choice should be specific to the choice made. Because I found the feedback is the same no matter whether the player's choice is right or wrong, maybe in the future design, not only the explanation to the correct answer is included, but also the explanation to other three wrong answers can be included. In addition, the future game design should incorporate more fun and meaningful way to play the game. As the number of questions asked in the game is limited, the game can be expanded by including increasing levels and a reward system for players such as badges.
References
Winn, Brian. The Design, Play and Experience Framework. In R. Ferdig (Ed.), Handbook of Research on Effective Electronic Gaming in Education. Hershey, PA: IGI Global, 2009, pp. 388-401.