Introduction
ZisBoomBah is an innovative website that challenges conventional wisdom and develops tools that inspire both children and parents to life a fun, active, and healthy life. Pick Chow! allows children to create meals by dragging and dropping foods onto their virtual plate.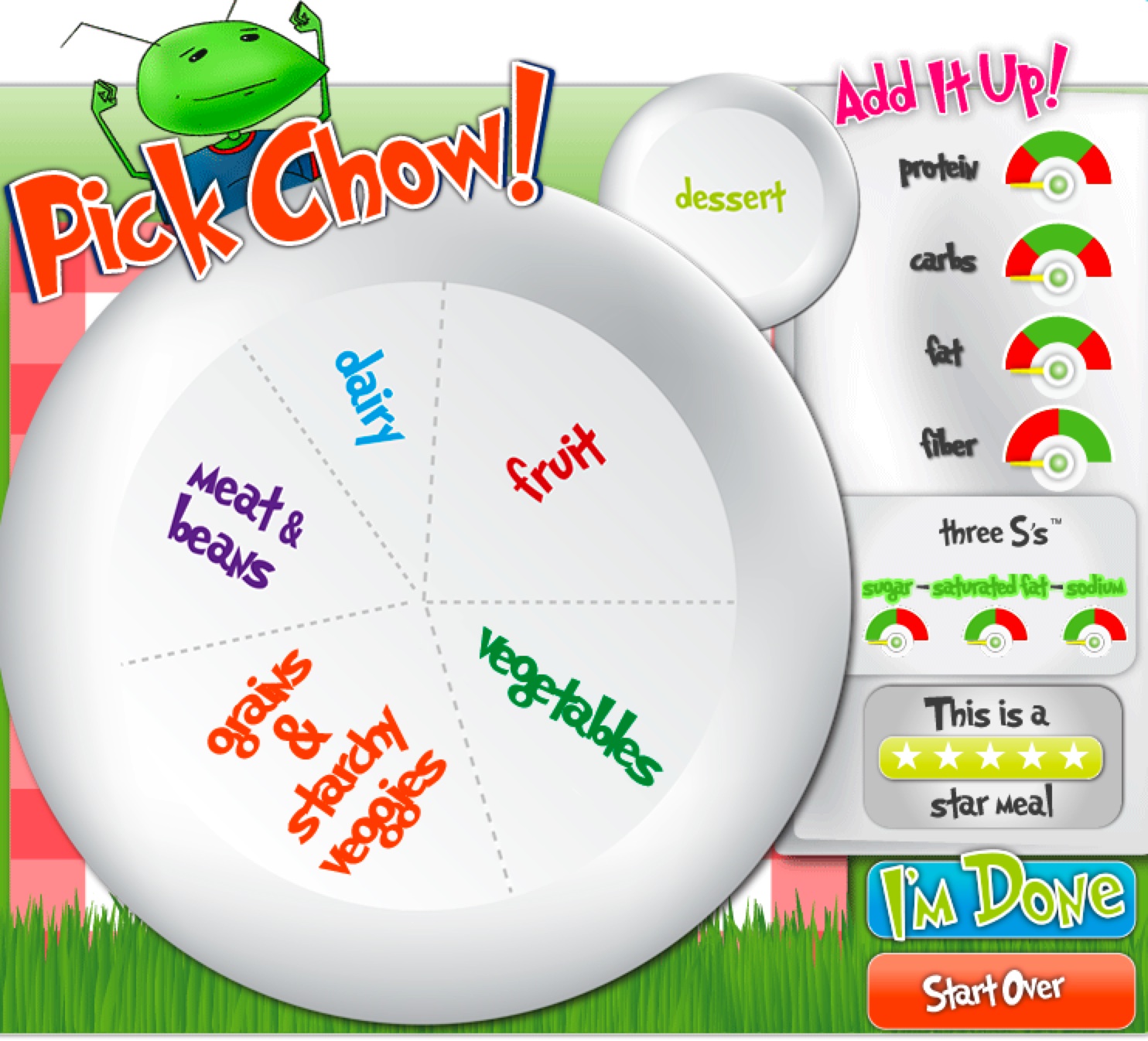 Below is a detailed analysis of this game roughly following Brian Winn's1 Design/Play/Experience framework, including:
Using date and immediate feedback to make decisions about food choices can help kids revise their thinking. While the main goal is to create a five-star meal, there and many possible food combinations. The player has the option of what they put on their plate so they feel ownership over their end result or winning meal. The points the player earns from creating meals can be used to buy features for the players antvater.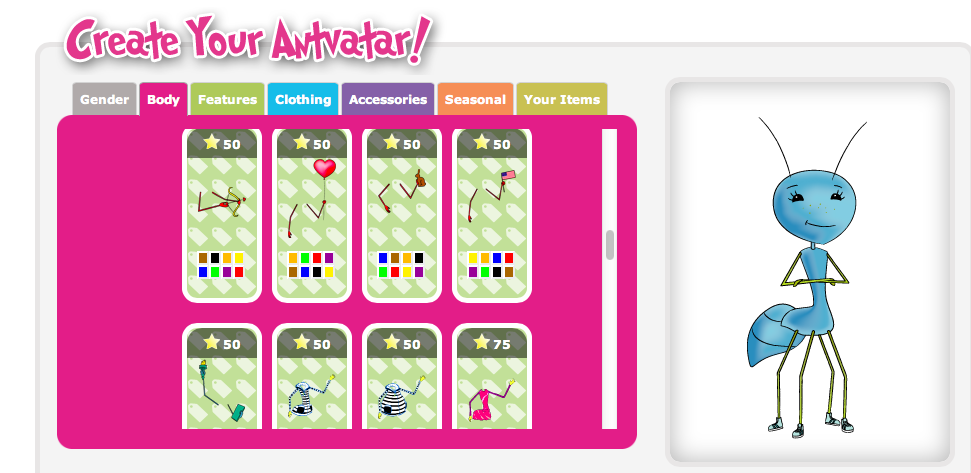 There is no story play element with the game. The player chooses their age; either 5-8, male 9-13, or female 9-13 and their plate; pick chow!, pizza, salad, rice, or noodle. Then the player simply drag and drops food onto their plate to create a meal.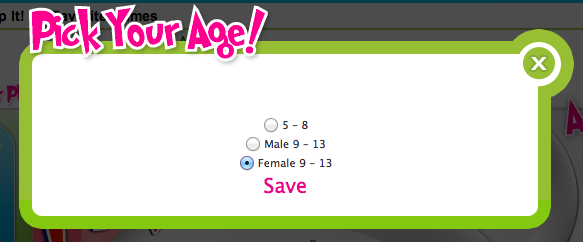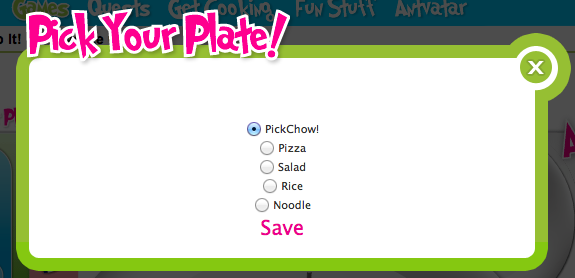 Children pick and choose foods to add to their plate. The "Add it Up!" meters on the right side of the page show the nutritional values (hint: all meters should point to green) in a fun and easy way and rates each meal with one to five stars. Children can then send their virtual plate to their parents, who then receive an email with what their child has chosen to be a healthy meal, along with the menu, recipe, shopping list and coupons.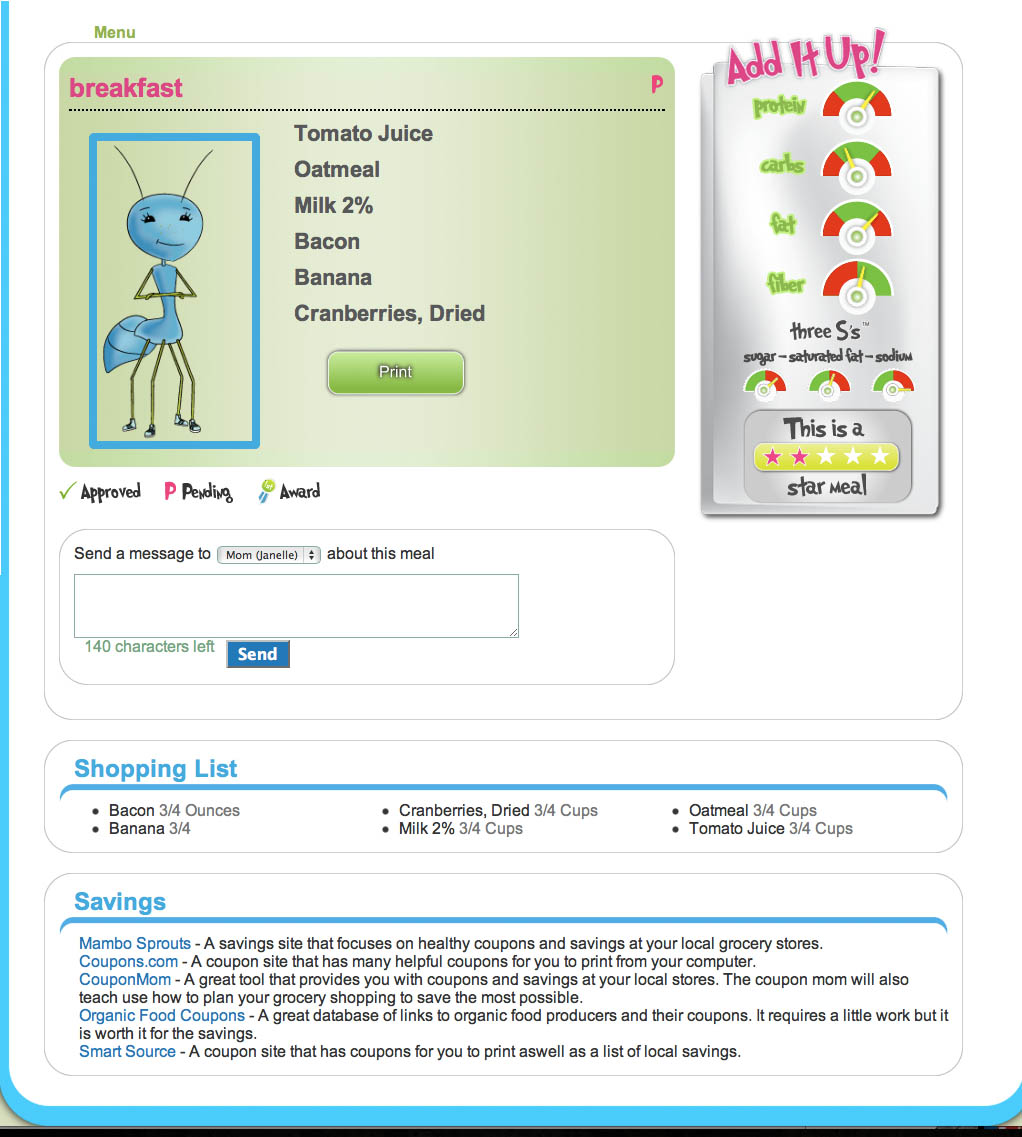 Pick Chow! has an easily accessible clean interface. The screen is split into three major sections. The right section is the the possible food choices. Foods are split into 8 categories; veggies, means & beans, grains, dairy, starchy veggies, fruit, toppers, and dessert. Each food is identified with its name and a picture. Each food item can be clicked to bring up additional information including facts and nutritional information.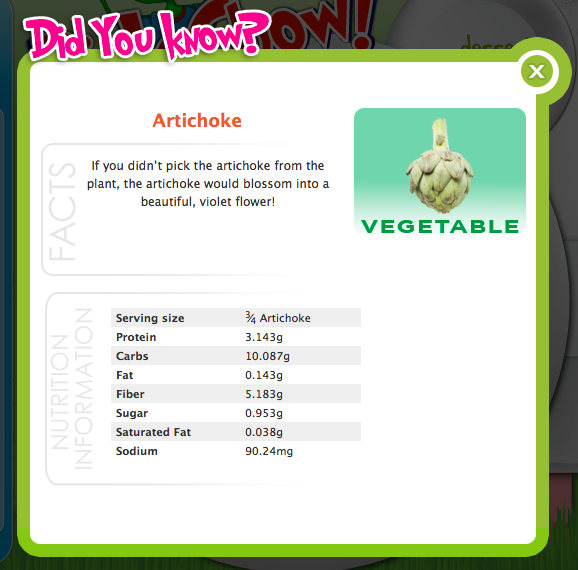 The right part of the plate show the nutritional information with easy to read gauges. This information includes: protein, carbs, fat, fiber, sugar, saturated fat, and sodium. The goal is to add foods to the plate to get each gauge from red to green. By adding food to your plate your meal is given a star rating, the ultimate goal being a 5 star meal. Each meal must include at least 1 meat, bean or dairy, 1 grain or starchy vegetable, and 1 vegetable. The main part of the screen is the actual plate where you drag food. Your plate is split into 5 sections: mean & beans, dairy, fruit, vegetables, and grains & starchy veggies. If you make a 5 star meal you are given the option of adding a dessert.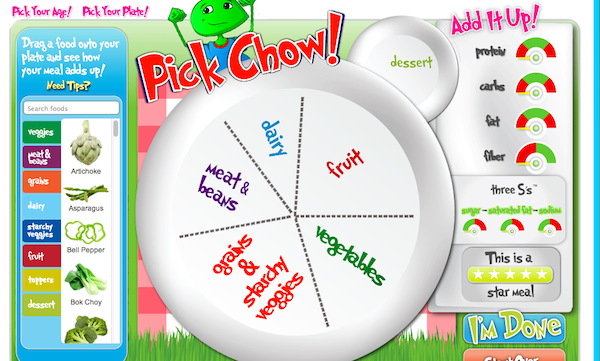 Pick Chow! is an html based game. This works well because anyone can play it as long as they have a computer with internet access.
Pick Chow! has been recognized by many websites and organizations as one of the top apps for healthy kids. The First Lady Michelle Obama's campaign chose Pick Chow! as the best online tool to help her end childhood obesity within a generation. Common Sense Media also recognizes ZisBoomBah with the highest rating for health and fitness.

The one problem I found in this game is the star system. For breakfast I created a meal of oatmeal with dried cranberries, bacon, a banana, a glass of milk, and a glass of apple juice. It has whole grains, fruit, protein, and dairy. All of the Add it Up! categories are all lit up green. Yet, this is only considered a one star meal. No matter what I added to the breakfast i could not get past a two star meal. The app allows you to add a dessert onto the plate, but only if you've created a 5 star meal. I think the star system part of the game could be taken out without having much effect on its overall effectiveness.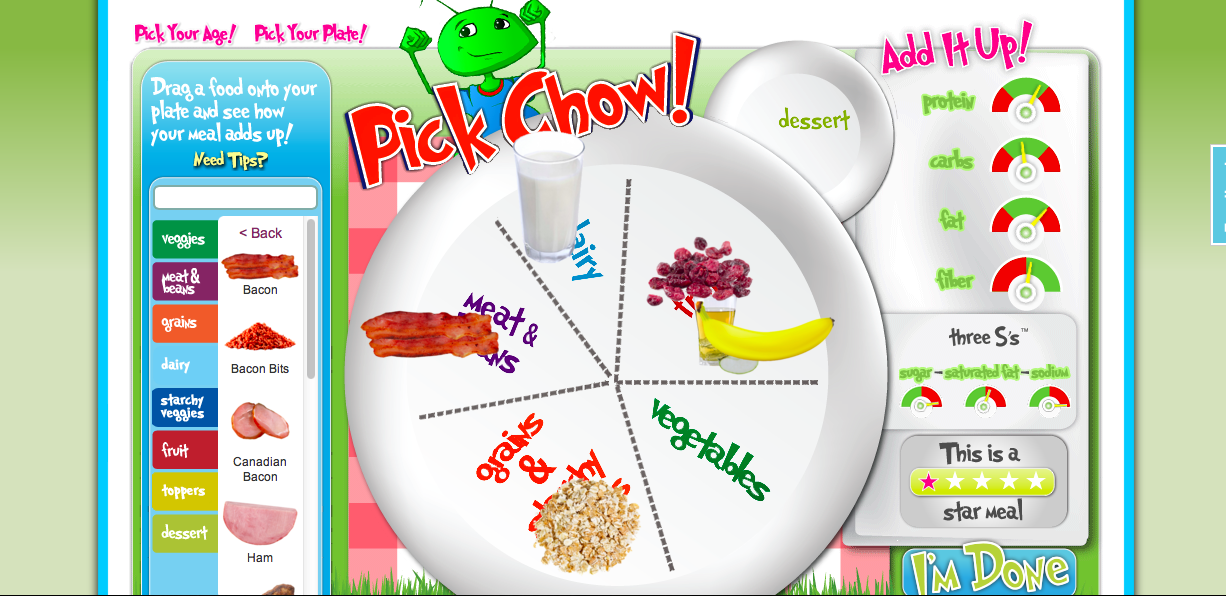 References