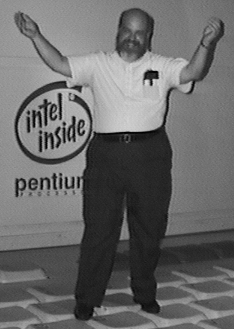 David

Finkel's

Home Page
I'm a member of the faculty of the Computer Science Department at Worcester Polytechnic Institute (WPI). Additional information is available in my departmental home page.
Important Links
Slides from IMGD More Insight Presentation 2015
Silicon Valley Project Center -- Information for Sponsors
Research Activities
My research interests revolve around issues of computer system performance evaluation. I have been involved in research projects that use queueing theory, computer simulation, and measurement to determine or predict the performance of computer systems. My research projects have studies the performance of operating systems, computer networks, and distributed computer systems.
I am a member of the PEDS (Performance Evaluation of Distributed Systems) Research Group at WPI, one of many research groups in the department. The group consists of faculty (including Professors Claypool, Wills and Kinicki) and students (mostly graduate). We meet weekly to discuss the work we are doing as well as discuss current research in the larger research community.
I am also active in research in the area of Computer Science Education. Among my recent published papers are papers concerned with peer learning in introductory computer science courses, and the use of projects in undergraduate systems and networks courses.
I am one of the faculty teaching in the major in Interactive Media and Game Development.
Teaching Activities
The following are courses I am currently teaching or have recently taught.
Undergraduate Projects
I generally advise MQPs in the areas of computer performance evaluation, especially performance of computer networks and operating systems. Additional information is available in the description of proposed MQP Topics.
Prof. David Finkel

  
Computer Science Department
Worcester Polytechnic Institute
100 Institute Road
Worcester, MA 01609, USA.
Email:

  

dfinkel@wpi.edu
Phone: (508) 831-5416
FAX:

    

(508) 831-5776

   
---