Sand Safari
Dateline: May 30th, 2011, Abu Dhabi, UAE
We went on a sand safari offered by a local tour operator as part of a package for tourists (that's me, although Kaj feels more at home here).
You might be thinking, as I certainly was, that taking a safari through the Arabian desert, in June, where the temperature regularly breaks 100 degrees (38 Celsius to you non-yanks) and the annual rainfall is less than 3 inches is at least no fun, if not downright foolish. Fortunately, I was way wrong. Once out of the steamy downtown of Abu Dhabi and out into the open, the breeze off the dunes was amazingly fresh and cooling. With the sun setting, the desert cooled off quickly making be outdoors comfortable as well as beautiful.
For some background, this was not your grandmother's safari where you ride a camel across an endless sea of sand (although that could be cool, too). No, this was a distinctly modern safari that started out in a cool, comfortable, super air-condition Lexus SUV.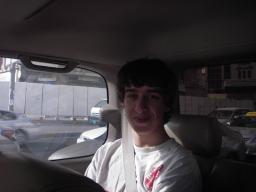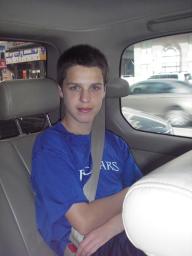 We were picked up at our door by our driver, a man with few words but with impeccable dress of crisp, white Arab robes and cap. He came equipped with a selection of hip, but still ethnic, music for the trip (not sure if that was part of the tour package or just his taste in music, but either way it added flavor).
About 45 minutes out of Abu Dhabi and we were at the dunes. We needed to let the air out of the tires to get traction. It's amazing the difference that made for traction - the tires could actually bite into the sand once done.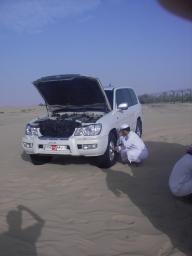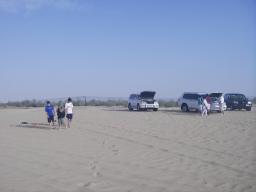 Thus deflated, we headed out into the desert, not following any sort of trail (maybe using a GPS?). We first made a stop at a camel farm filled with the runting, smacking, spitting, funny-looking beasts. Very cool. Somewhat smelly. They mostly ignored us, but we still stayed out of spitting range.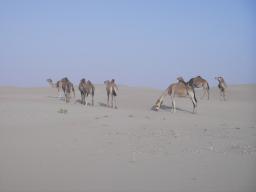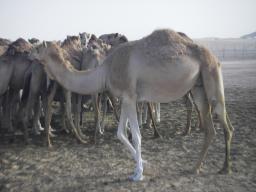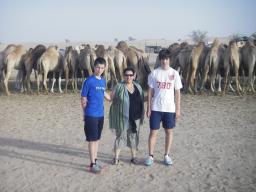 Then, we were on to some dune bashing! I've made jokes about SUV owners that use their super-powerful, 4 wheel drive vehicles to drive back and forth to the mall. Not these ones! These drivers made maximum use of their clearance, all four wheels with power and traction control. And their superb driving skills (don't try this at home!). The raced up and over dunes at breathtaking speeds, as exhilarating (and scary) as any roller coaster. We'd zoom up dunes as steep as 45 degrees, spin out 180 degrees at the peak, and barrel back down. We'd straddle a dune peak, driving lengthwise at 30 mph with drops on either side, before plunging off to the right or left. I seriously thought we were going to roll the car 1/2 dozen times, especially when we "fell" off a straddled dune crest, only to have the driver steer into the skid, gun the engine and spray sand all over as we gasped and laughed. As a white knuckle-gripping trip, it was a must (at least for me), made possible by the liberal use of the side hand rails.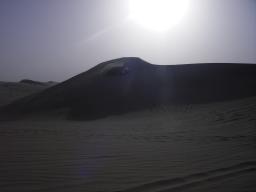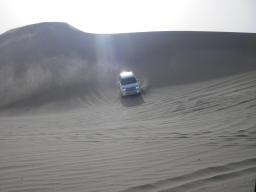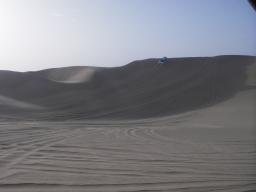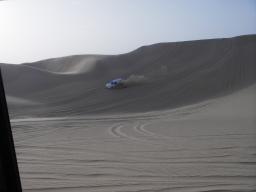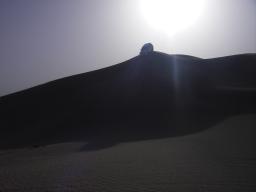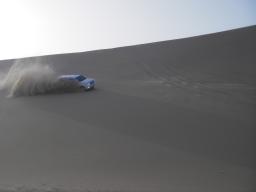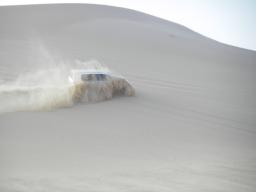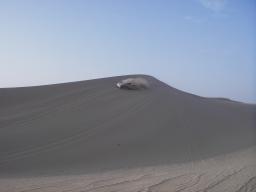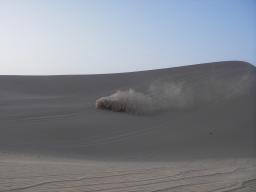 The venue, too, was epic. Miles of sand, a bit of scrub, and more sand, piled high up into wind-swept dunes. It was like you see in postcards or on a National Geographic.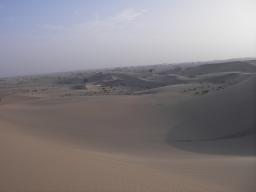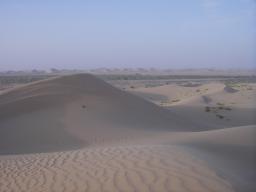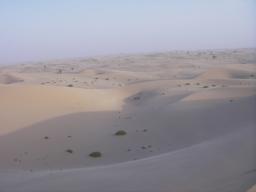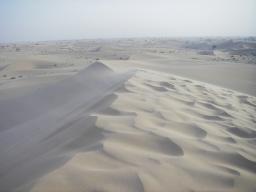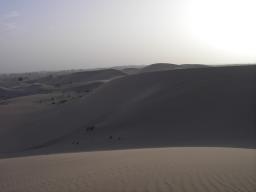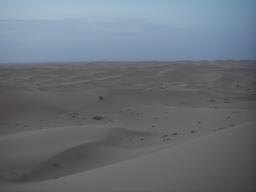 Bashing through the dunes at top speed seemed almost destructive, but then our tire tracks were quickly erased by the wind, leaving no trace. We had stunning vistas, both while clinging to the sides and tops of the dunes in the car and during breaks where we stretched our legs and took in the expansive views.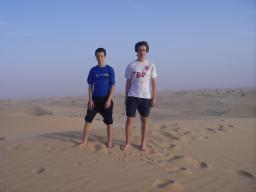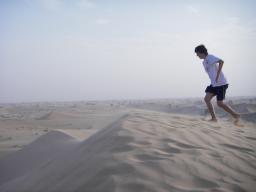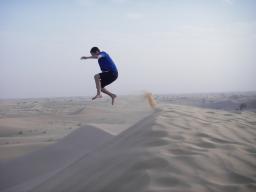 We got a chance to explore thoroughly once we reached the Bedouin-style camp. Floor seating and a buffet style feast awaited, with all the soda (Coke and assorted flavors of Fanta you don't find in the U.S.), tea and turkish coffee you could drink. The food was meh (they trucked it in, I think, and didn't cook it there), consisting of hummus and baba ganoush (of course), and some salad, cold fries and cous-cous and soup. Baklava for dessert.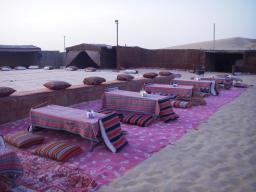 Ladies could get their hands and feet done with Henna tattoos. I guess guys could, too, but it did only say "Ladies".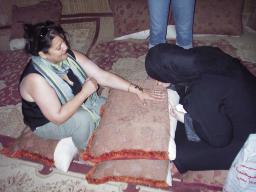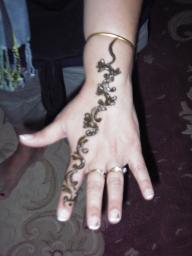 The camp came with sandboards that you could ride like a maniac (tough to steer) down the dunes. Wipeouts galore, but at least the sand was soft.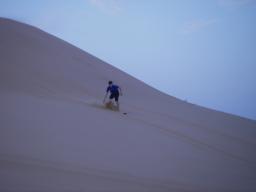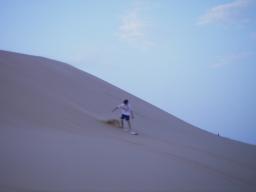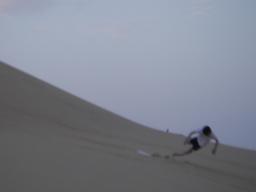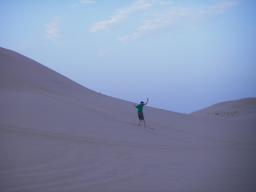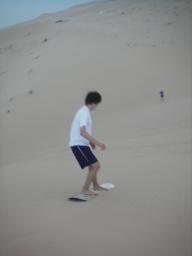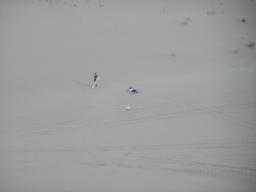 Here, there was a chance to ride some camels, too. Getting up and down on the beasts was an adventure, but they have a pretty smooth gait once up. I avoided getting spit on again (yay!), but stepped in a fresh pile of camel poop when I dismounted (boo! sorry, no pictures).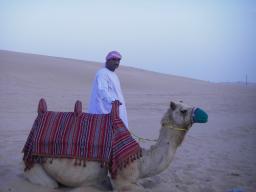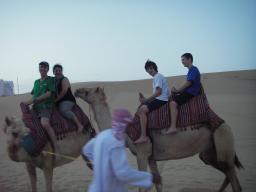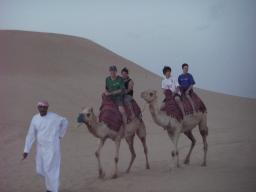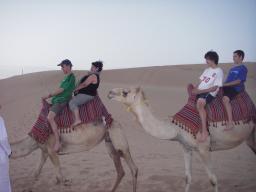 After dinner entertainment featured the requisite belly dancer, accompanied by some modern, disco type beats. Shaking, wiggling, jiggling and expert flipping of hair, along with sword swinging, stick swinging and shawl waving. She encouraged audience participation, but Akaash and Saahil didn't bite, despite my egging them on.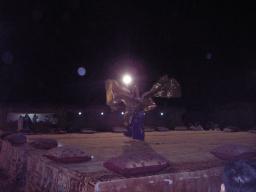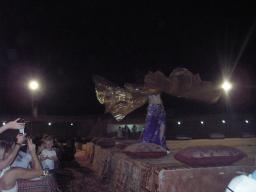 The evening ended with some photo ops with Arab garb (the difference between me and the boys, "I make this look good" ala Men in Black), and a few on the ATVs. Actually, you can rent the ATVs, too, but I'm too nervous to let my reckless boys fly around on the dunes in the dark with no helmets. I'm sure their extended family thanks me. ;-)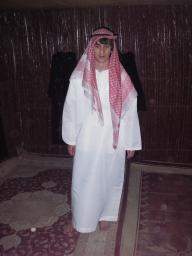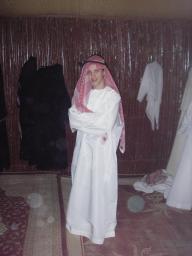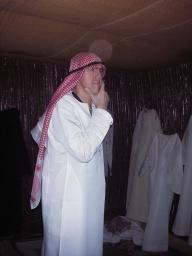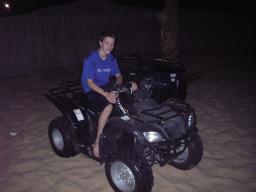 We headed home shortly thereafter, with sand everywhere (shoes, bags, pockets, hair, ears), but everyone tired and happy.
The end.