!Converted with LaTeX2HTML 95.1 (Fri Jan 20 1995) by Nikos Drakos (nikos@cbl.leeds.ac.uk), CBLU, University of Leeds >
---
Next:
Previous Work
Up:
Introduction
Previous:
Conflicts and Negotiation
---
One goal of this work was to build a single function agent based design system to demonstrate the the capabilities and restrictions of negotiation in the SiFA paradigm. So a wine glass designer called COSINE was implemented.
This work is a continuation of previous work on SiFAs that developed a SiFA platform called SINE (SiFA Negotiations), and therefore was named COSINE.
The wine glass domain is simple enough to enable building a prototype in a short amount of time. Since wine glass design does not involve complicated technical domain knowledge, expert knowledge is readily available. The simplicity of the domain also makes it attractive for demonstration purposes.
This domain is also complicated enough to demonstrate all the power of a SiFA system with negotiation capabilities and the richness of the possible conflict situations.
The parameters of the design, as shown in figure 1.2, are cup radius, cup thickness, stem length, stem radius, base radius, and base thickness.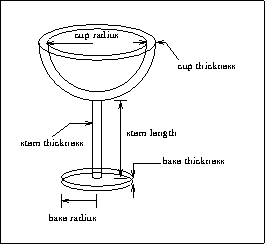 Figure 1.2: Wine glass parameters

There are many constraints among these parameters. For example, as the ratio between the cup radius and the base radius has to be within certain limits so that the cup is stable. Also, the cup radius has to be within certain limits so that it holds a reasonable amount of liquid. Similar constraint involving other parameters exits.
The rest of this thesis is organized as follows. Chapter 2 is about previous work in this field; chapter 3 gives details of the SiFA paradigm; chapter 4 explains the extensions to the earlier SiFA paradigm; chapter 5 and chapter 6 discuss conflicts and negotiations; chapter 7 contains examples of sample runs from COSINE to demonstrate the ideas presented in this work; chapter 8 gives details of the implementation of COSINE; chapter 9 is an evaluation of this work; chapter 10 presents further research issues; and the document ends with a summary and conclusions in chapter 11. The appendices contain sample rules from COSINE and a sample run.
---
Next:
Previous Work
Up:
Introduction
Previous:
Conflicts and Negotiation
---
---
Ilan Berker
Thu Apr 27 16:25:38 EDT 1995